Steps to take after identifying ceiling water damage
1/19/2023 (Permalink)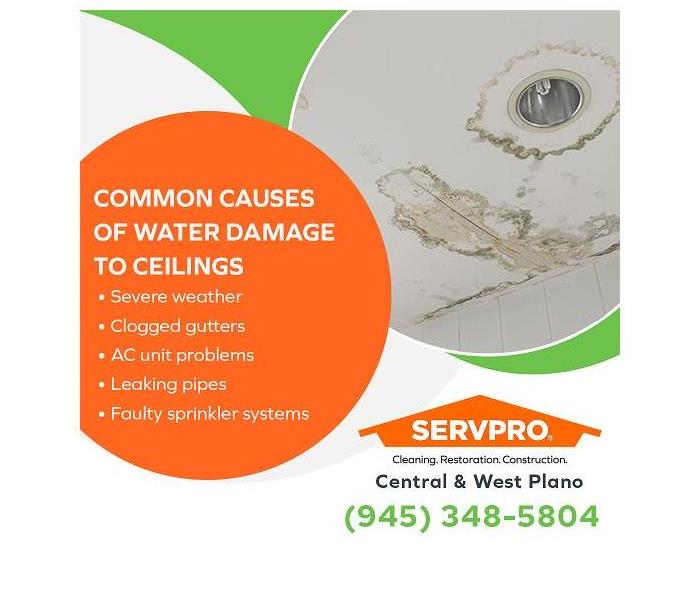 Blog Summary: The steps to take after identifying ceiling water damage are shared in this article by SERVPRO® of Central & West Plano.
A ceiling is the overhead interior surface covering the rooms' upper limit. Its main purpose is to conceal the underside of the roof or the floor above. Ceilings help make an indoor space look more beautiful and neat. Also, pipes and ducts can run through the space above the ceiling and remain concealed. This space can also be used to install insulation and fireproofing material.
All homeowners are keen to prevent water damage in their homes. There is a possibility of leaking behind a ceiling that causes water damage to the ceiling, which requires the leak to be stopped and may necessitate ceiling repair. Water damage to ceilings can be dangerous if it affects the electrical wiring installed near the ceiling. It also impairs the efficiency of the insulation and causes energy loss. Preventing ceiling water damage is important. Water damage restoration must be initiated as soon as possible if ceiling water damage is noticed.
SERVPRO of Central & West Plano has over 25 years of experience in the restoration industry. The company provides water damage restoration in Hebron, TX, and neighboring areas that adhere to the highest industry standards. In this article, SERVPRO of Central & West Plano shares some useful information on ceiling water damage.
Common causes of water damage to ceilings
Severe weather
Roofs and ceilings can sustain damage during storms, heavy rain, hurricanes, snowfall, etc.
Clogged gutters
When gutters get blocked by debris, water can seep through the walls or roof, causing damage to the ceiling.
AC unit problems
If the AC malfunctions, it can cause condensation that affects the ceiling. There can be leaking into the ceiling if the AC has a blocked drainpipe or full drain pan.
Leaking pipes
Pipes may leak and affect the ceiling that is close to them.
Faulty sprinkler systems
Sprinklers are important in a fire accident, but if they are faulty, they can lead to water damage to the ceiling.
Signs of ceiling water damage
Stains
Discoloration or stains is a sign of water damage to ceilings that is easy to identify.
Mold
Moldy patches may be seen on ceilings that have been exposed to moisture.
Sagging ceilings
Ceilings that appear dipping or bowed indicate that they have been exposed to water from leaking pipes or appliances. If the ceiling on the top floor of a building is sagging, it may be due to roof damage.
Bubbling or peeling paint on the ceiling
Bubbling or peeling paint indicates that water or moisture is accumulated above the ceiling drywall and may leak soon.
Soggy drywall
If ceiling drywall is soft to the touch or moist or mushy, the drywall is water damaged and needs replacement.
Leaking ceilings
Visible leaks or water flowing down the walls or water pooling on the floor may be due to leaks from the ceiling.
What to do if there is ceiling water damage?
If any signs of ceiling water damage are seen, quick action is needed. If the ceiling is exposed to water for long, it affects the structural integrity and is also at a high risk of developing mold growth.
Identifying the source of water is important. Fixing this problem is the first step before the damage is repaired. Sometimes this is easy, like if there is roof damage due to a storm causing water damage. Otherwise, a plumber or a professional water damage restoration technician should be able to identify the cause of water damage.
To control the damage, if a ceiling leaks, the leaking water can be contained in containers lined with old towels placed to catch the water. Furniture or objects exposed to water can be moved or covered with tarps or plastic sheets to protect them. Any water on the floor may be mopped up to prevent damage to the flooring and protect it from mold growth.

Ceiling water damage can impact the structural integrity of a building if it seeps into walls or the floor. Drywall can also develop mold quickly. Professional water damage restoration is quick and thorough. SERVPRO of Central & West Plano has a team of highly trained restoration technicians who have access to the latest restoration and cleaning equipment. For any kind of water damage restoration in Hebron, TX, residents can rely on this company. Contact SERVPRO of Central & West Plano on the number (945) 348-5804 for an immediate response to water damage emergencies.