What Is Water Damage Restoration?
10/9/2022 (Permalink)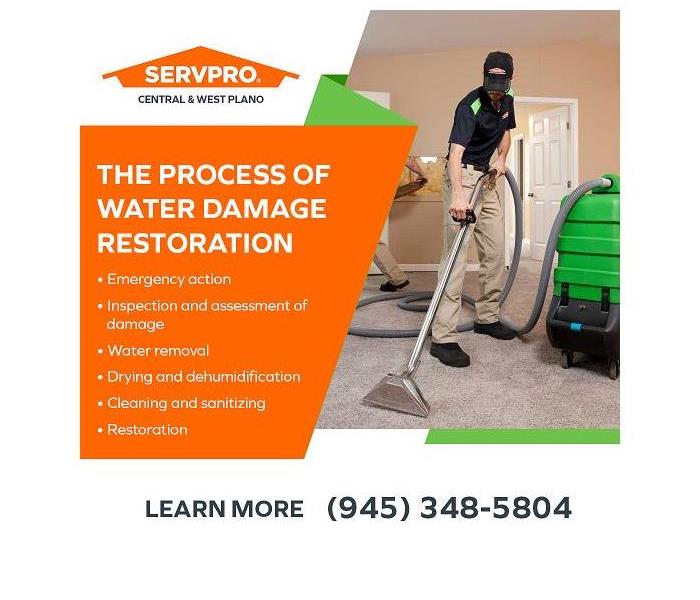 Blog Summary: SERVPRO of Central and West Plano explains what water damage restoration is in this article.
Incidences of water damage are rising. Dealing with water damage is costly, and it is estimated that around 1 in 50 homeowners claim insurance for water damage or freezing annually. According to the Insurance Information Institute, this makes up 29% of all homeowners insurance claims.
Leaving aside the financial aspects, water damage is a severely distressing occurrence for both homeowners and business owners. A professional water damage restoration company is required, especially for severe water damage. Homeowners needing water damage restoration in Hunters Glen, TX, can rely on SERVPRO® of Central and West Plano. As the number one choice for cleanup and restoration services, these professionals also strive to understand the needs of individual customers and strive for customer satisfaction in all work they do. In this article, SERVPRO of Central and West Plano explains what water damage restoration entails.
Water damage restoration is a term used for all the measures and activities carried out to restore a property that has sustained water damage. The aim is to restore the property to a preloss state, as far as possible. The process also helps to limit further destruction of property, the resulting harm, and the costs incurred.
The process of water damage restoration
Water damage can affect the structure of the building, building materials, personal belongings, and furnishing like carpets, etc. Depending on the severity and class of water damage and what was affected, the specific process of water damage restoration can vary. But the basic steps are generally the same for water damage restoration. These steps are:
1. Emergency action
Immediately after water damage, the priority is to make sure the family members and occupants of the affected building are safe. If needed, provisions may need to be made for medical care or alternate living arrangements. If the situation demands, an emergency call can be made to authorities and a professional water damage restoration company. This is important when the water damage has affected a large part of the building, is severe, or is caused by contaminated water. SERVPRO of Central and West Plano can be contacted by phone for emergencies 24/7 and can reach the affected area in 60 minutes. The company has IICRC-certified technicians equipped to handle large or small water emergencies. SERVPRO of Central and West Plano understands that delay in starting the water mitigation process can cause further water damage and worsen the existing damage.
2. Inspection and assessment of damage
The area is inspected and the source of water is immediately stopped. The type of water causing damage is assessed and based on the level of contamination it is categorized. Any safety issues must be identified and a prioritized action plan will be formed and implemented. Depending onthe affected area, the kind of materials affected, and the extent of damage the water damage restoration technicians can design a strategy for water damage mitigation and repair. The contents of the building like furniture may be moved or blocked to limit the extent of water damage.
3. Water removal
This step is to remove standing water as quickly as possible. The absorbed water is also extracted as much as possible. This step is very important as standing water can affect health and safety. Water removal also helps make drying the affected property easier. Water damage restoration experts will have moisture detectors and hygrometers to assess the extent of moisture present. They are also trained and skilled in using specialized equipment like submersible and gas-powered pumps, and truck-mounted and portable extraction units that aid quick and thorough water removal.
4. Drying and dehumidification
After water removal, technicians begin to dry the area, which is essential as there can be retained moisture that can cause material deterioration and mold growth. Depending on the measurement of the area affected, room temperature, and humidity levels the water damage restoration technicians determine the equipment to be used. Industrial grade dehumidifiers and high-speed air movers may be used as required. The drying and dehumidification will help reduce the risk of secondary water damage.
5. Cleaning and sanitizing
Once the affected building is dry, the area must be cleaned. Walls, floors, furniture, and other items should be cleaned and sanitized. Depending on the affected objects, dry cleaning, wet cleaning, spray and wipe cleaning, foam cleaning, abrasive cleaning, or immersion cleaning may be used. Sanitizing is important especially if category 2 or category 3 water damage was sustained. Professionals like SERVPRO of Central and West Plano offer specialized services to restore contents damaged by water. Deodorization can also be done to remove offensive odors using air scrubbers or fogging equipment. Damaged materials and objects are removed and disposed of at this stage.
6. Restoration
Severely damaged property may need some amount of reconstruction. Though immediately after water damage, emergency services like board-up and tarp-up may be done, in the end, repair and replacement services are carried out. This step is what restores a home to a state that is as close to the preloss condition as possible. This can be anything like drywall removal and installation, painting, or carpet repair.
Water damage can be devastating for homes and businesses, if severe. It is an overwhelming experience for all involved. SERVPRO of Central and West Plano understands this and the team always makes an effort to make the process as easy and stress-free as possible. Homeowners who need assistance with water damage restoration in Hunters Glen, TX can contact the company via phone at (945) 348-5804. With a wealth of experience, expertise fostered by constant training and cutting-edge equipment, and adherence to high industry standards, SERVPRO of Central and West Plano is the number one choice for cleanup and restoration.